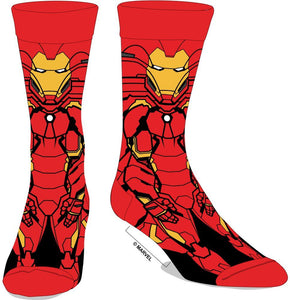 MARVEL - IRON MAN - 360 Men's Character Crew Socks
Super Socks Need a convenient way to keep your Iron Man suit with you wherever you go?
Have you ever wanted to try out Tony Stark's Iron Man suit but are a bit worried about the claustrophobia that comes with being fully strapped into a flying metal suit? Well, this pair of awesome Iron Man 360 Character crew socks might be what you're looking for.

Featuring the Iron Man suit in glorious 360-degree sock art, you can feel the power without having to find the eject button. These awesome character socks are here to make your feet fly while the rest of you can breathe that fresh air without needing a mask.
Try these Iron Man 360 Character Crew Socks on for size! Featuring a full knit image of the famous suit, you can dress for any occasion without leaving your armor and tech behind. Whether you're leading a meeting or running some errands, these officially licensed socks are the perfect way to stay ready for action!
One Size Fits Most

The Marvel Avengers Socks are available in most mens sizes.
The Avengers Crew Socks are made of comfortable, durable materials.
The Iron Man Socks are officially licensed and 100% authentic.
The Iron Man Crew Socks are made with 200 needle construction for a clear, detailed image of Iron man.
The Iron Man Accessories are an excellent gift for guys!

---
We Also Recommend
---